Do you like to stay healthy? Hulmes Court bed and breakfast, accommodation in Dunedin, can help you with that!
Dunedin is a hilly place and as our accommodation is located only 2 blocks from the Octagon, most guests leave their cars in our off-street parking area and explore Dunedin by foot! You will be walking up and down little hills all day, you will hardly even notice it because you will be too busy enjoying all the sights Dunedin has to offer!
We have one especially famous hill…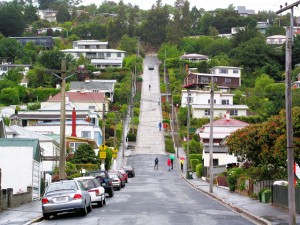 Baldwin St! It is the steepest street in the world! You can even get a certificate if you make it all the way to the top. I've never been up; I don't think my little legs will carry me that far. Sometimes it is hard being a cat!
P.S. As you know from my last blog, Dunedin has many varied attractions to see including the Dunedin Railway Station. Did you try out my quiz? If you did, the answer is… (c)! There are no theatre and dance shows put on at the railway station, but all the other events do take place there.