| | |
| --- | --- |
| | Hulmes Court and Dunedin - more info |
Photography of Hulmes Court in the 1870s

More About Hulmes Court

Hulmes Court is a beautiful 1860s Victorian mansion, an architectural treasure situated right in the heart of Dunedin. Just 2-3 minutes walk to the city centre, restaurants, theatres, information centre, Octagon, Art Gallery, and more. You can see just how close we are by looking at a map of Dunedin.

Hulmes Court was built by the then provincial surgeon Edward Hulme who helped found the Otago Medical School, The University of Otago and our public hospital. He was also the first healthcare employee of the central government. It is a Historic Places Trust registered building.
| | | |
| --- | --- | --- |
| | | |
| Norman shows you how close we are to the city centre | Hulmes Courts beautiful staircase | Norman discusses the breakfast room |
There is plenty of off-street parking in our grounds of trees and gardens, providing tranquility from the hustle and bustle so near by. You can move indoors and enjoy fine conversation in the Victorian drawing room, that is now our breakfast room. Your host Norman Wood and his staff are frequent travellers around New Zealand and the world. We will provide you with a warm, friendly and informative stay in our beautiful city.
Hulmes Court provides guests with a continental breakfast, free tea and coffee making facilities (and biscuits!), free WiFi, plus we have a guest computer connected to the net if you need. Oh, and you can't forget free cuddles with the cat. We have a laundry that you can use for only $10.

Getting to and from Hulmes Court
The railway station (Anzac Square at the end of Stuart Street) and Intercity bus stop are about 15 minutes walk away. See map of Dunedin.

The airport is about 30 minutes drive from the city centre. There are regular shuttle buses which greet each flight and cost about $20NZD to the city centre and Hulmes Court. A Taxi will cost more.
More Photographs of Hulmes Court -
| | | |
| --- | --- | --- |
| | | |
| Beautiful floors | Grand entrance | Stained glass |
The Breakfast Room

Relax around the marble fireplace or in the all day sun in the drawing room. This is also where the breakfast is served.




Hulmes Too - 56 Tennyson Street, next to Hulmes Court.

This is a photo of the Hulmes Too, which is next to Hulmes Court. This is also part of the bed and breakfast. It has 3 bedrooms. It has free Wifi. The breakfast is still served for everyone in Hulmes Court so you get to meet all the other guests.

56 Tennyson St was built in 1907, so it is Edwardian, while Hulmes Court is Victorian. It is a generation younger.
Dunedin
Dunedin is one of the oldest cities in New Zealand, built with the money generated by gold mining nearby. Dunedin's buildings, such as the railway station, courts, town hall, university, and many others are grand examples of Victorian architecture - with the wealth flowing through the city at the time - nothing was spared.
Dunedin is bigger now - but the feel of grandeur hasn't changed. Added to this is the vitality that comes with being a busy university town, with cafes, restaurants, theaters, and young people everywhere enjoying our wonderful city. Come and visit and enjoy it too.
Hulme's Court is an excellent place to stay and enjoy what Dunedin has to offer. Some of our attractions include
| | |
| --- | --- |
| | First Chuch - some more of Dunedin's fantastic architecture - a little bit of Europe in the South Pacific. Dunedin was settled by Presbyterian's from Scotland and started as a planned city. Shortly afterwards Gold was discovered. |
If you just want to stay close to home you might want to go and eat in some of the great cafe and restaurants which are close or see some movies in our fabulously refurbished movie theatres such as the Rialto which is only 2 minutes walk away, Reading Cinemas and live theatre at the Fortune (also only 2 minutes walk away).

There is also -
• Otago Peninsula with Larnach Castle, Albatross Colony, penguins, seals, and wonderful walks.
• The southern hemisphere's finest Victorian architecture.
• New Zealand's oldest university.
• Taieri Gorge Excursion Train
• Botanic Garden with world renowned rhododendrons.
• Olveston, one of our finest homes.
• Early Settlers and Dunedin Museums.

• New Art Gallery - which is in the Octagon with lots of trees and cafes (see the photos below)
• Hocken Archival and Libraries.
• Speights Brewery.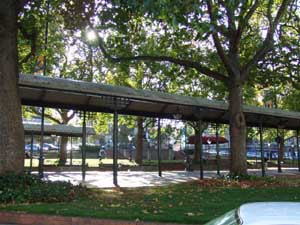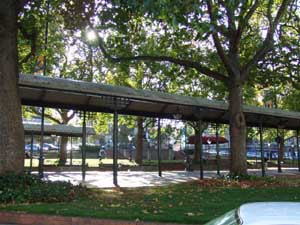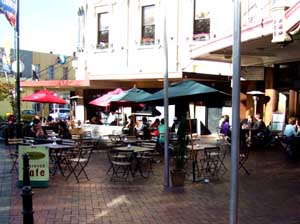 Click hee to see more about Dunedin and what Dunedin has to offer.
---
| Home | Hulmes Court is For Sale | Read more about Hulmes Court B&B | Look at the bedrooms and the tariff | Meet the friendly staff | See a Dunedin map - our Location | Things to Do in Dunedin | | Whats on in Dunedin | Solstice the Cat's Homepage | Visit my plastics factory | Norman's Garden | email us at reservations@hulmes.co.nz | Promotional Products | thefactoryshop.co.nz | dunedinmap.co.nz | Advertising Dunedin | visit Norman's Bookshop | normanwood.net | Chinese Garden | Links to Cool things and places |
Host: Norman Wood, Street Address: 52 Tennyson Postal Address: PO Box 6361, Dunedin North, New Zealand Freephone 0800 448563 (0800 4 HULME) New Zealand only, or Ph : 64 3 4775319 Fax 64 3 4775310